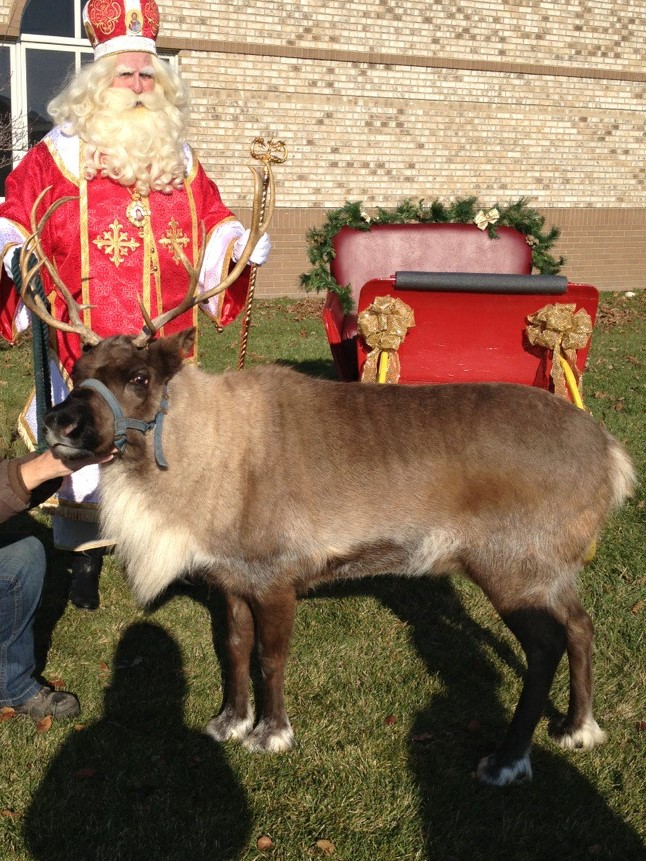 Pictures with Santa at 2|42 Community Church on 12/15/2018
Its the last time this year that the reindeer will be out at a public event. Gingerbread and Snowflake are going to Pictures with Santa at 2|42 Community Church on 12/15/2018. Santa will have our Shining Star Ranch reindeer there with his old fashion sleigh.  Lots of activities for the kids to do and enjoy more of the Christmas season and your admission is FREE!
2|42 Community Church will open their doors to the whole community for this FREE event and have many activities inside with Santa. So, don't forget to come out of the rush and hassle to enjoy the fun.
Come inside and walk around without the Christmas-like weather outside. Meanwhile, You can have a picture with Santa, visit the reindeer and sit in the sleigh, too. This event will be fun for the whole family, kids 1 to 92. You may even have the treat of a reindeer song or two.
Our handlers will help you enjoy the world of the reindeer or you can just watch the kids enjoy them. The reindeer fascinate young and old and will be on sight for most of the event. But then, they are off to for their next job that Santa has for them. Wonder what that will be?
You can visit the reindeer at 'Pictures with Santa at 2|42 Community Church on 12/15/2018' from 9:00 pm – 12:30 pm located at 7526 Grand River Ave, Brighton, MI 48114. For more information about the day, you can visit the 2|42 Community Church Pictures with Santa Facebook page.
Soon, we close the 2018 Christmas season, but remember, you can always see where the Shining Star Ranch reindeer will be next year by visiting our upcoming events page.
If you have an event in the off season, or during the holiday next year, where you would like to plan our reindeer to be available for an exhibit, please contact us.